Games and social media
Games, videos and social networking are all great ways to improve your English. Find out what is available from Cambridge Assessment English.
Quiz your English app
Challenge your friends and players from around the world with our English language quiz. Covering a range of topics, Quiz your English is a fun way to practise and improve your English.
---
Cambridge English FC
You are captain of Cambridge English FC football team. Answer English grammar, vocabulary and pronunciation questions so your team can win the cup. Be sure to impress your manager or you'll be sent to the bench!
---
Shop & Drop Learning Game
Keep your customers happy by making sure you put the right items into their box. Play all 15 levels, practise your vocabulary and see if you can make it onto the leader board!
Play the Shop & Drop learning game
---
Monkey Puzzles World Tour
Join Monkey's trip around the world and play 8 mini games, including 2 new games to practise listening skills. Unlock games as you progress – but watch out, they get harder as you go along!
Play the game on our website or download the FREE app on the iOS App Store. Android users can play Monkey Puzzles World Tour on our website with an internet connection.
Play Monkey Puzzles World Tour
---
Monkey Puzzles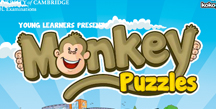 Visit our Monkey's favourite places and play 8 mini games to test your English. Unlock new games as you progress - but watch out, the games get harder as you go along!
Now available FREE for iPad and iPhone! Visit the iOS App Store.
---
Funland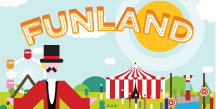 Visit Funland and play a range of classic fairground games to practise your English language. Control the ferris wheel, splash the clowns and collect prizes along the way. Available on the App Store and Google Play to download for free.
---
Academy Island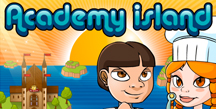 An unknown alien life form lands on earth and has to learn English to get around. Progress through different difficulty levels by helping the alien use English in a range of situations such as shopping in a bakery or visiting places such as an art gallery and library.
---
---
Cambridge English TV 
Subscribe to our channel to get helpful tips on exam practice and lots of English language learning advice.
---